Dig It offers Skidsteer(Bobcat), Excavation, and Transport services in South Western Ontario. We offer services to contractors and homeowners and are fully licensed and insured (WSIB). 
We take safety seriously and will not not do any work without first obtaining the proper locates for the site, this is non-negotiable. Damaging underground infrastructure can have serious consequences including personal injury or death and can lead to large financial penalties. Dig It will take care of obtaining the locates, interpreting the locate sheets, and safely digging around any known underground utilities.  
Dig It knows the importance of keeping projects on track and costs under control, this is why we take the maintenance of our machinery so seriously. A reliable fleet means projects get completed on time.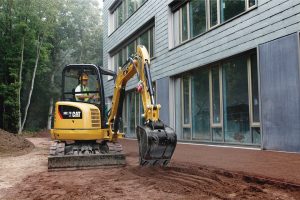 Bobcat skidsteer with the following attachments: digging bucket, forks, hydraulic post hole auger, hydraulic grapple bucket, material bucket. Large diesel compactor capable of compacting 6″ lifts per pass, compact gasoline compactor capable of compacting 2″ lifts per pass. 
Large compact excavator able to dig 11.4′. Suitable for all residential work and smaller commercial jobs. 
Transport and hydraulic dump truck. Large equipment float capable of transporting mid size machinery.